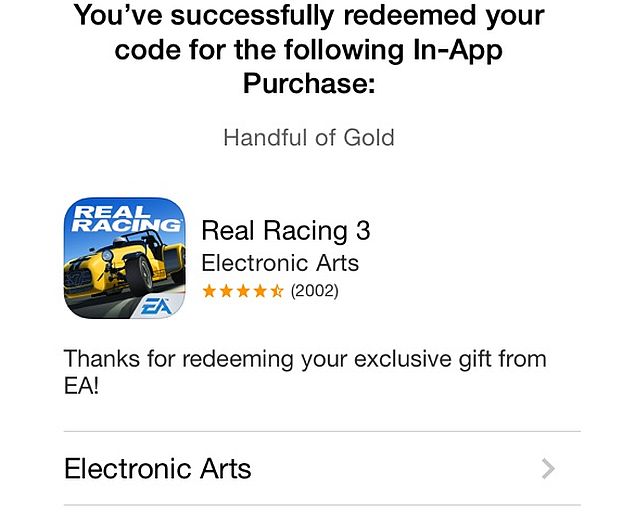 An important new development in Apple's App Store has just been found – it appears that you can now give promo codes for in-app purchases (IAP), and not just app purchases.
Earlier, developers could share codes to give you access to paid apps for free, which is a common practice for things like app reviews, for example. However, IAP is something that has been a bit of a problem for companies making freemium apps, which are heavily reliant on these both for monetisation, and for the ideal experience.
This is particularly the case with gaming apps, where the freemium model has become pretty much the norm. The iOS gaming news website 148Apps first reported on Thursday that EA Mobile would be giving away 10 free virtual gold (a $1.99 IAP) to players of its game Real Racing 3, if they visited its website from their iOS devices.
The use of promo codes for games could be very useful for developers, in multiple scenarios. For example, a developer could use IAP promo codes to give testers and reviewers access to all aspects of the app without requiring them to spend any money.
Or it could be used for a promotion, the way EA is doing right now with Real Racing 3, as a tool to keep people hooked to the game, to generate interest, and to keep engagement with the app up. Another possible use could be in real world contests with in-game rewards.
This giveaway is not available in all countries however – when we checked the website from India, you get a message saying that "the promotion is not available in your country." Whether this means that IAP promo codes aren't available in India yet, or that EA has not made it available in this case, isn't clear at present.