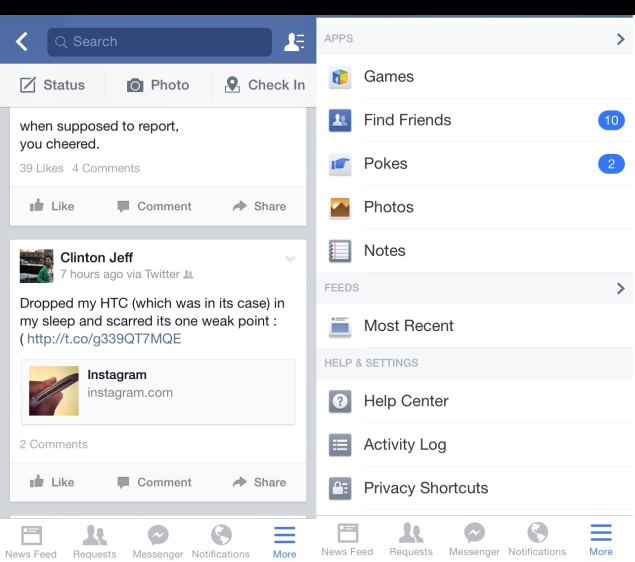 Till recently, users of Facebook's Android and iOS apps could quickly arrange posts on their News Feed in a chronological order. This means that one could see most recent posts first, followed by older ones. However, Facebook's latest updates to its apps have hidden this option.
Now, opening the Facebook apps will show you the most popular posts, which is based on an algorithm. Although Facebook hasn't removed that "most recent" posts option, it definitely has made it a lot harder to find.
The release notes of Facebook's most recent updates to its iOS and Android apps mention these features: review your posts before sharing (iOS only), create posts offline, and News Feed improvements to make it load faster.
What those notes do not mention is Facebook's decision to remove the "News Feed" button from the main screen of the apps. Tapping this button allowed users to access the "Most Recent" button, which shows posts in chronological order.
Here's how you can return to viewing posts in chronological order.
Open the Facebook app on iOS (version 10) or Android (version 9.0.0.26.28).
iOS users should tap the "More" button at the bottom-right, next to Notifications. Android users can find this button at the top-right.
Scroll down to the Feeds sub-head (below Apps) and hit the "Most Recent" button. That's it. Now Facebook will order feeds based on the time of posting, rather than popularity.
Unfortunately, this isn't a permanent fix. We found that we had to select this option whenever we re-opened the Facebook app.
Do you prefer to see Facebook posts in chronological order? What do you think about Facebook's latest update hiding the "Most Recent" button? Feel free to share your views in the comments section below.
For the latest technology news and reviews, like us on Facebook or follow us on Twitter and get the NDTV Gadgets app for Android or iOS .